Well look where we are at – Episode Five! Who knew this series would even get here. It's amazing and everyone has been so supportive along the way.
At the start of the series I asked for people's input and ideas for categories and episode themes. This list is one of those suggestions.
Bexa over on HelloBexa wanted to see my Top Five Motivational, Inspirational list. Well the genre made it into the poll and after a second count it have won. So thank you and well done to Bexa. If you haven't had a chance to get to know her, let me strongly suggest hitting that link and saying hello. She is such a great supportive girl, an inspirational blogger and all round amazing, friendly, fun person.
So let's start this journey.
---
Into the Wild
"Happiness only real when shared!"
Following the true story of Chris McCandless as he literally sells up and just begins to travel across America and Alaska. Living life to its fullest and just experiencing the real natural world first hand, Chris meets hitchhikers, tourists and other amazing eye-opening people on his travels showing the true beauty of human nature as he longs to explore and be free.
The emotional side of the film creeps in with his family and parents dealing with his sudden disappearance, lessons he learns along the way and watching him fail certain vital tasks. Mixed in with an amazing soundtrack by the legendary Eddie Vedder, the film constantly spikes all emotions and hits every note perfectly. Leaving you inspired to travel, see the world and enjoy life to its fullest.
When watching remember it's based on a true story, this makes the ending all the more harrowing and hurtful.
It's a Wonderful Life 
"Look, Daddy. Teacher says, every time a bell rings an angel gets his wings."
One of my favourite Christmas films sneaking into the inspirational mix too. If you haven't seen this film I have to ask . . . why? What happened? It follows George (played by the charming golden era legend that is James Stewart. As he grows up in a little sleepy town. You know the ones where everyone knows everyone and its cute but nothing major going on. Dreaming of travelling and going to college, George finds himself constantly putting his life on hold to help other. His father's business, his brother's education and tour in the army. Every time he is set to venture into the big wide world the little town pulls him back.
He comes to terms with this reluctantly and settles down, has a family, grows the business and is general well-respected and loved by all. Until a twist of fate kicks in and it looks like George will be going to jail for fraud and starts to think everyone would be better off if he were dead as his life insurance plan would pay out.
In a fit of rage and depression one snowy evening he attempts to end it all, when he is saved by an old man named Clarence. He explains how he were never born and Clarence decided to make it so and show George a life if he were never born.
It ends with George realising he has worth and me with a choked up tear in my eye.
Every time, no matter how many times I watch it, I find myself a slight blubbering mess. Left with inspiration and the power of knowing, life is good – life is what we make it and everyone effects each other even if we don't think it.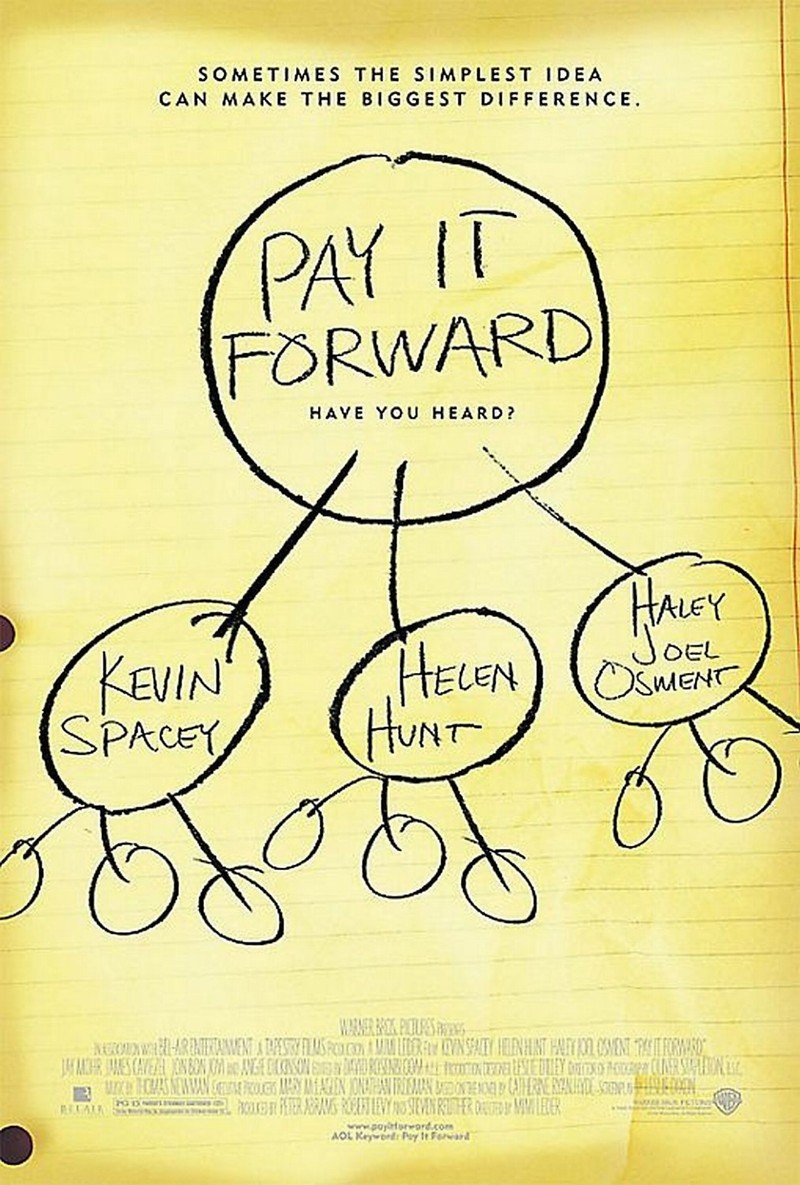 Pay it forward
"What did you ever do to change the world?"
Pay it Forward I think is a really under appreciated film. Following a young boy who for a school project sets up a charitable movement called "Pay it Forward" where he does a favour for three people and in return asks these people to do a favour for another three people. Spiraling outwards and growing as more and more people become part of this movement.
It shows how the innocent of the young is pure and meaningful. With all the good intentions in the world to change it for the better.
The casting is superb as well. With Haley Joel (I See Dead People) Osment as the young school boy who starts the movement, Helen Hunt as his loving mother and Kevin (Don't mention his name) Spacey as the influential teacher who sets the assignment for the class.
It's such a good feel good film with such a good idea and heart at the centre of it. It makes you want to do good, to be the better person and to help humanity. Just a heads up now, the ending is totes emosh. You've been warned.
Wild
"My life, like all lives, mysterious, irrevocable, sacred, so very close, so very present, so very belonging to me."
Another true story based on a woman's journey of self discovery while dealing with grief as she travels the Pacific Crest Trail through America.
It's rammed full of inspiration and motivation and if it doesn't want you to go and get lost in the world then I don't know what will.
Much like "Into the Wild" it's a breathtaking visual masterpiece using the location as its own character. With some scenes that are a bit uneasy to watch the over message of the film is beautiful and I can't recommend it enough.
Wonder
"You can't blend in when you were born to stand out."
Wonder is a loving tale about a boy – Auggie, who has mandibulofacial dysostosis a rare facial deformity. Spending a lot of his childhood being home schooled. His parents decide its time to go to school with other children to help his social skills. Starting the fifth grade, Auggie is like any other 10-year-old – minus his appearance. He likes movies, games and having fun. But instantly he is outcast by his peers due to his looks.
The movie tackles the hardships of being different, the dark side of childhood and how cruel children who don't understand can be. While also showing the loving side of family and making the best of a bad situation. It drills right down into the human soul, hitting you in the feels and dragging a smile of reassurance back out as it does so. It's a sweet film that inspires the positive side of human nature, highlighting how dark it can be but showing that once out of the dark the light always shines through.
Accompanied by an outstanding cast – Jacob Tremblay as Auggie is yet again amazing! Owen Wilson stepping out of his pure comical roles to slide into something more serious, but still bringing a light-hearted touch as the father trying to deal. And Julia Roberts playing the mother. I don't really need to plug her, it took my years to realise but she is amazing in anything isn't she.
Prepare yourself for a little choked up teary version of yourself to appear and just enjoy the film. Feel motivated when you come out and do good.
Honestly if these don't inspire you to travel, do good or make amends then I am not sure what will. They are all beautiful pieces of work which inspire, amaze, make me cry and make me smile. Let me know what inspires and motivates you, what gives you that can do attitude and what brings a tear to your eye.
Also let me know if you have seen any of these and if so what you think to them, if not, go watch them and then let me know.
Peace.