Happy Lazy Christmas Sunday Guys. I hope you are well.
Today's post we are talking about Christmas Traditions.
---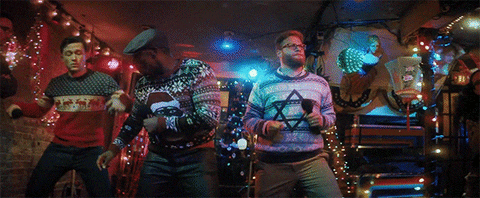 ---
I love Christmas and the whole festive season. One tradition I love to do, but sadly isn't an annual thing anymore is the following – Visiting my dads house back in Lincolnshire, I'd drive up on Christmas eve and with my Sister and Old Man we would have a takeaway – I do too much cooking on Christmas Day. No need to do any on Christmas Eve right.
Then I head out into the sleepy market town to meet up with old school friends where we would go to the pub and spend the night, drinking, sharing stories, catching up and singing badly to Christmas songs. Normally taking control of the Jukebox in the pub and spamming it with Christmas hits, 80's power ballads, screamo and pure cheese. We cover all bases.
---
I have always had the vision of when I'm older having a big family Christmas. Like what you see in the American Christmas films, all generations sitting around a big table with bowls of food and festive table decorations. This is a Tradition I'd like to put together and work towards when I am older. Enjoying Christmas with family.
---
Another tradition that I have revolves around Christmas films, it's like a challenge to watch as many Christmas films in the month as possible. Which means lots of lazy weekends with festive snacks and movies. Wrapping presents while watching Elf, having a beer with Die Hard or just a lazy Sunday morning with Miracle of 34th Street and It's a Wonderful Life. These moments are what make Christmas Christmas to me.
Another tradition that I usually do a couple of times a year is visit the German Christmas Markets. They are just magical places filled with cute huts, beer, christmas decorations and tasty treats. Sadly they cancelled Northampton's a few years back and now we have to go somewhere else but that makes for a cute weekend. Nottingham, Birmingham, London.
Oh and how can I forgot Bixby! My Elf on a Shelf. Yes I am fully aware this is VERY America and aimed at the children. But nevertheless I wanted to start now in preparation for the future. The problem I might find as I hide him and move him every couple of days is the fact my GF HATES him. Not sure why – look at his lovely face, he is a little gem.
I also like the Naughty Elf snaps that people post – proper Sex Drugs and Rock n Roll style. Google them if you are not sure what I mean. Not the Child Friendly option though.
---
And now as we have just moved into a house I think this is the perfect time to start new traditions. But what? I would really like to know your Christmas Traditions, what is a must over this festive season? I'd love to know.
Happy Holidays!