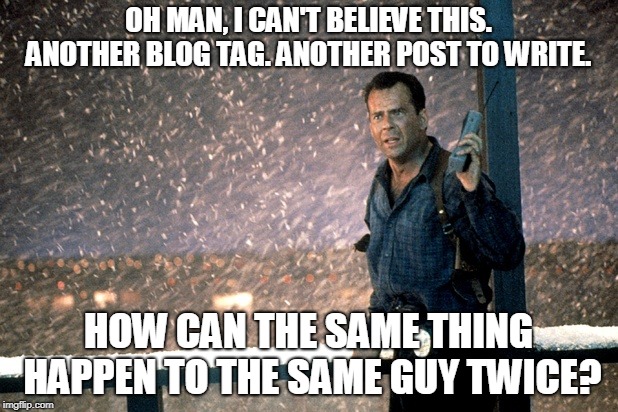 Just when you think Blogmas is over, it's time to put your feet up and enjoy the season. You get called back and tagged up for another post. So here I am. Abbie the delightfully amazing and supportive girly tagged me in this festive Christmas Tag – if you want to see her's it is just HERE.
It's been a crazy festive season, films, food and a hangover of all hangovers from the Christmas Party. But we live and learn.
---
What is your favourite Christmas candle?

I can never remember what it's called – but it smells of Christmas. My Nan used to always get one and it was delightful.
What is your favourite Christmas song?

Fairytale of New York. – An absolute tune that works at the Christmas party when we are all drunkenly bellowing it out.
Do you stay in pyjamas all day or dress up on Christmas Day?

Bit of both, all morning is PJ zone and then freshen up and get all fancy and festive for the rest of the day.
What are your plans for the holidays this year?

Christmas Eve is still to be confirmed. Christmas day at the GF's families – there is three under 5 so the magic of Christmas is still so real, which I love. Panto on Boxing day and then my family are visiting on the Saturday.
What is your favourite Christmas movie?

Die Hard. I love so many Christmas films, but Die Hard is my all time favourite.
Do you love or loathe tacky Christmas sweaters?

LOVE! L.L.L.LURVVEEEE Christmas Jumpers, the cheesier the better.
Who will you be kissing underneath the mistletoe this year?

The season of goodwill, so whoever wants a kiss. Probably the GF at some point too.
What are you excited for in the build up to Christmas?
The films and music. There are certain things you can't watch or listen to in the Summer. For me I love trying to cram as many Christmas films into this one month as possible.
What is your favourite Christmas tradition?

Tough call, the clothing, the films, the food. The whole magic of Christmas really.
What is the number one item on your Christmas wish list this year?

An NFL Houston Texans Jersey. Just so pricey.
What is your favourite Christmas food?

Cheese board and Pigs in Blankets
Do you shop the Boxing Day sales?
I don't really. I am not a fan on the crowds and rude people who just barge.
Do you prefer to give or receive presents?

Give, I am such a giver! But it's always nice to receive something.
What is your favourite sweet treat for the holidays?

Festive Friends – damn tasty.
Do you have a favourite Christmas drink?

I'm not sure. Maybe a festive Hot Chocolate of some kind.
Which Advent Calendar do you have this year? Do you remember to open it each day?

This year I have a Celebrations one. Which is good – minus the Snickers. Nobody wants that. But I usually forget to open them every day which is fine because it means I can binge one day.
What is your favourite holiday scent?

Tinsel – it is the smell of Christmas!
Are you one of those people who wish for a White Christmas each year?

Yes! 100% – I love snow and how much more magical would Christmas be if it was a white one.
What makes the holidays most special to you?

The merriment, the good will to others. The cheer. Everyone's a little bit happier.
What has been your highlight of 2018?

Has to be buying a house. Finally a grown up on the property ladder.
---
Thank you all for having a little read, I've love to know what answers are, so I tag you all. But because I have to name and pick a few I want  to see Hannah, Gracie and Katie have a go.
Much Love x