Good Omens hit Amazon Prime on Friday 31st May and 4 days later this is my review.
6 Minutes to the End of Review.
I'd never heard of Good Omens before Amazon Prime announced they were making a new show. Now like Netflix, I rate Amazon Exclusive shows because of their high production value, their amazing storytelling and genius work. Mix that with a breathtaking trailer, I was sold. I found myself curious to know what this cultural phenomenon was all about and what I had been missing for nearly 30 years.
The book's blurb, in a nutshell, is as followed: "The book is a comedy about the birth of the son of Satan and the coming of the End Times. There are attempts by the angel Aziraphale and the demon Crowley to sabotage the coming of the end times, having grown accustomed to their comfortable surroundings in England."
---
5 Minutes to the End of Review.
Firstly I want to say that with all the hope in the world and Twittersphere there will be no spoilers within these words, but as we are at the beginning I can not promise that by the end of this piece the secrets of the story will be as safe as they are now.
If only we knew how this would end, if only we had an accurate prophecy that would steer us in the right direction.
Let's begin, shall we?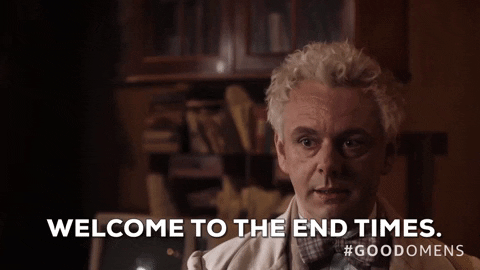 ---
4 Minutes to the End of Review.
I have to begin by praising both Michael Sheen and David Tennant for their amazing portrays of The Angel Aziraphale and The Demon Crowley (respectively) who have started to enjoy life on Earth and over the many years have started to become friends – of sorts.
They are both over the top, larger than life and hilariously sweet characters. As mentioned I haven't read the book so I never had an image of who they should be, but after watching them both – I can't see anyone else playing them. The relationship the two have developed throughout the ages is well put together and has an underlying love as they go from, enemies on opposite sides of the religious divide to understanding each others point of view, to friends who support each other in the game that is much bigger than them. From early on they decide to ease up on their respected jobs, keeping humanity on track or invoking temptation as they realise they are counteracting each other and not making as much of a difference as first intended. So they decide to enjoy life on earth instead. Which involves the fine food of life, the great works of literature, a smart car and a lot of Queen's rock music.
What's not to love?
---
3 Minutes to the End of Review.
From the start, the introduction of the world, the clever narration by God and the suggestion that the world was created on the 21st of October 4004 B.C. at quarter past nine in the morning was in my eyes very Douglas Adams. It had the same quirky feel that the Hitchhikers Guide to the Galaxy had and that instantly sold the series to me, from that first episode I was hooked.
The style, the dialogue, the narration. All of it grabbed me and just worked. It's a cool, quirky, science fictional twisted religious tale of good and evil. It takes jabs at the Bible and the stories we know so well. My favourite was just as Noah was loading his Ark, Aziraphale (Angel) was explaining to Crowley (Demon) that the lord almighty was ridding the world of impurity by using a flood. To which Crowley replies with something along the lines of – "That's more of something my lot would do not yours" where Aziraphale tries to make it sound better by saying that in return God if gifting Earth with Rainbows.
Which Seems fair.
I really appreciate this style of comedy, a twist on words. As well as Douglas Adams, it's very Monty Python. The comical aspect of this show doesn't let up either. Even in times of darkness, and I mean it is pretty dark – what with the end of the world and all that. The humour still rolls through it and delivers every time, and with a cast like this how could it not. As mentioned with the amazing Sheen and Tennant, we can also add to the mix; the charming Jon Hamm, the foolishly funny Jack Whitehall, the amazing Anna Maxwell Martin and Oscar Winning Frances McDormand. To name a few.
Honestly, it's a cast that just keeps giving so keep your eyes peeled.
---
1 Minutes to the End of Review.
Right, where are we now? Did I mention the superb use of soundtrack? Queen! Crowley's car seemed to only play belters from the British band. Commented on actors and humour – Check. How about the Nun's? No, I'll leave them for you to discover, the same with the Four Horsemen of the Apocalypse – who I thought was wonderful. You can have those gems to look forward to, and "Dick Turpin", there is a joke coming somewhere trust me.
Overall I really enjoyed this show, it flowed really well and was just put together with so much love and dedication that I bet both Neil Gaiman & Terry Pratchett (God rest his soul) would both be extremely proud of what Amazon has produced. . . well, they should be. Now I think it is time for me to read the book. I've heard the show is VERY true to the book which is always a great sign.
So time ticks on, the review is coming to an end – as it was predicted, as it shall be. I believe there were no spoilers in this – more like teasers. But that is for you to decide. I hope I've sold it well to you and that you are already loading up Amazon Prime in order to watch it. You will not regret it.
Promise.
---
End of Review.