I've stumbled across a map, X marks the spot and the jewels are waiting, hidden in the vase in some dusty attic.
It's Fantasy week!
I had a top five picked out but the more I thought about it the more I thought, Fantasy is a HUGE genre.
Indiana Jones – The Last Crusade
I have always loved the Indiana Jones trilogy (we don't talk about the Crystal Skull) and they were a big part of my growing up, at one point I wanted to become an archeologist just like our lovable rouge Indy.
But truth be told the real reason the Last Crusade wins is simply because of one charmingly dashing Scott – Sean Connery. Playing Indy's father he brings a new level to Fords character as we watch the two play off each other in such a dynamic duo.
Following the hunt for the Holy Grail, this film ticks all Adventure Fantasy boxes in my head. Action, Humour, Good vs Evil and booby Traps.
There was also a family story, that the Tank Indy fights on near the end, was my dad's uncle Ted's tractor that the studio bought of him, stripped and repurposed into a tank. I never asked how much truth was in this – but the whole family were in on this. Hmmm.
Lord of the Rings – The Two Towers
Can't have a genre like this without throwing something from Jackson's catalogue of masterpiece Tolkien films. For me LOTR beat the Hobbit set (even though it's slightly dated now days) and within those three – all are amazing in their own right but for me the second instalment wins and let's be honest, that is because of the Battle of Helms Deep.
But also as story, I think the 2nd of a trilogy is very important. It's got the biggest job of linking the two bookends, picking up from the first with such momentum that it can carry itself , while building the cliffhanger and suspense for the final piece.
Two Towers does that and so much more. Bringing key characters, plots and arcs into the Middle Earth world. With amazing action sequences, brilliant character chemistry and just opening up the vast fantasy world of Tolkien. This film and the whole franchise are a must.
Pirates of the Caribbean – Curse of the Black Pearl
Savvy pick hey! I really enjoy the Pirate films, Captain Jack Sparrow is such a fun character and Johnny Depp plays him so well.
Following the antics on the seven seas, this film introduces us to the world of pirates, ghosts, ships and swagger.  As the story focuses on cursed Aztec gold – which leaves a crew invincible but ghostly and stuck longing to be free. It has everything that you expect, swashbuckling fights, sun soaked locations, witty one liners and rum, lots and lots of rum.
Yes the franchise is still going and yes maybe they should have stopped a couple of films back, but regardless I love them all – they are just fun easy going films and without a doubt the first easily earn't a space on this list.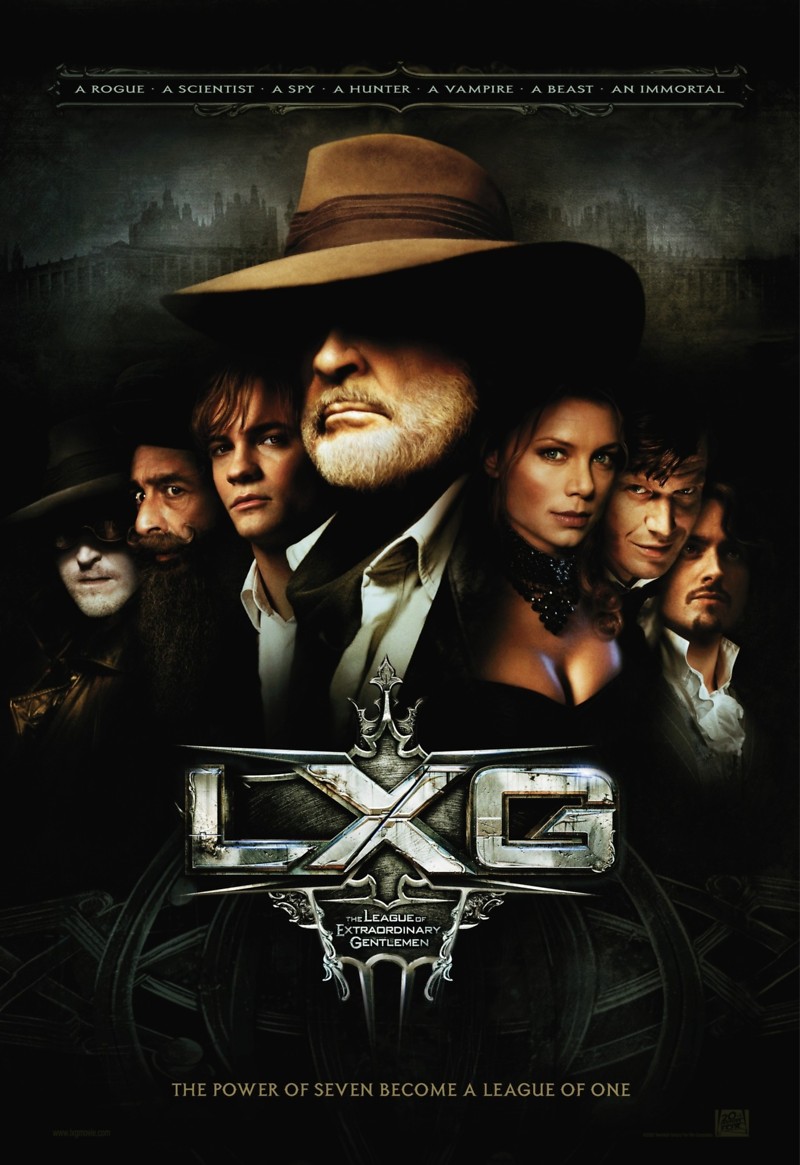 League of Extraordinary Gentlemen
Little fact for you, this is the first and only film I ever downloaded (in the naughty sense). Because I was so excited to watch this film, bringing awesome literacy character together in one stylish gothic noir style world what is not to love.
Following Allan Quatermain, The Invisible Man, Mina Harker, Tom Sawyer, Captain Nemo, Dorian Grey and Jekyll/Hyde as they team up to face a new world terrorist on the turn of the century. The Phantom who turns out to be James Moriarty the villainous arch-enemy of Sherlock Holmes.
The film itself got panned and in turn didn't generate enough interest or money for a sequel but I none the less loved it, the casting, the sets, the way they bought these characters together was amazing. I guess it's a guilty pleasure but one I highly recommend people see.
The Mummy
Not the Tom Cruise surprise but the 1999 version with Brandon Fraser.
As a kid this was also one of those films that, if it was on – regardless of where it was in the film I could put it on and enjoy it. After a group of archaeologists accidentally wake a cursed priest mummy who is hell-bent on bringing his bride back to life to rule the world, our heroes have to set out across Egypt to find a way to stop him and bring peace back to the world.
If you like shotgunning the undead, over the top humour, cool dark arts and just some awesome fantasy fun. This is the one for you! Nothing too serious, just some easy-going fun.
Thank you for another spellbound, knife wielding fun old post. What do you think of my picks? Is there something that should be on the list? What is your list?
Don't forget to like and share this post and also vote for the next genre.
Always a pleasure!